RENTAL MOTORCYCLE
Motorcycle Tours Bolivia, a company located in LA PAZ BOLIVIA, offers you the possibility to rent a motorbike and enjoy adventure, freedom and security. Ride at your own pace. MOTORCYCLES CAN ONLY BE RENTED AND RETURNED IN THE CITY OF LA PAZ.
MOTORCYCLE RENTAL (only from La Paz city)
The prices are in USD.
BIKE 

1 day 

2 days 

3 days 

4 days 

5 days 

6 days 

week 

SUZUKI DR 650SE 

KAWASAKI KLR 650




$120 


$235  

$350 

$460 

$560 

$650 

$750 
MOTORCYCLE RENTAL REQUIREMENTS:
Experienced Motorcyclist.
Having knowledge of mechanics in motocycleta
Valid National + International motorcycle license
Passport + Photo ID.
Sign the contract.
Insurance for Motorcycle $45 (See detalls below).
Deposit of guarantee.THE DEPOSIT IS ONLY IN CASH. (See detalls below)
50 % OF TOTAL COST PAID IN ADVANCE TO MAKE A BOOKING. (Money transfer by Western Union).
BRING MOTORCYCLE CLOTHING.
THE RENTAL IS ONLY IN THE BOLIVIAN TERRITORY.
MOTORCYCLE RENTAL POLICIES
Included:
Law Insurance SOAT (It only covers personal injury).
Spare inner tubes tire pump, chain lube, and basic tools
Complete information about routes, distances, hotel, etc.
with big Fuel Tanke Capacity 22 L. 
Not included:
Gasoline.
Full Covered insurance (Motorcycle damages and other vehicles).
Extra for rent: boots, helmet DOT, Jacket. $100
EXTRA COST FOR SUITCASES $40.
Motorcycle insurance (extra cost $45. (See detalls below).
NOTE:
The Hirer has a tolerance of 20 minutes to return the motorcycle, after that 1 rental hour will be charged. The day is considered from 08:30 AM. to the 7:00 PM. (Not 24 Hours). It is just in case you want to rent 1 day.
The guarantee will be given back to you, once the motorbike will be delivered us in the same conditions that you've received it. If the motorbike might have some damage, we will use the amount from the guarantee according the repair or mechanical assistance costs, if the expenses go over the guarantee amount, we will use your entire guarantee amount and the insurance will cover the rest.
We'll NOT follow the same procedure if the motorbike was stolen.
Motorcycle rental insurance:  US$45.-
All our motorcycles arestandard NOT INSURED for damage to the rented motorcycle AND forproperty damage to third parties.
Thisinsurance we offer to our clients covers damage to the rented motorcycle ONLY (notincluding third parties!)and reduces the excess/deductible to a maximum of US$1,000.00.

Without this insurance all damage to the rentedmotorcycle is responsibility of the hiree. This could be more than the safetydeposit of US$ 2,500.00.
It is NOT possible to(re-)insure property damage to third parties (3rd party liability) .
NOTE.- This insurance does not cover total losscaused by ROBBERY. If the motorcycle is stolen the hiree's participation tocover the loss is 80% of the actual value of the bike. This amount shall beestablished in the contract for rental before departure.
Also, the insurance does not cover damages causedwhile the hiree drives under the effect of alcohol and/or drugs.
Safety Deposit:
With our 'Additional Damage Reduction Insurance: US$ 1,000.00

Without our 'Additional Damage Reduction Insurance: US$ 2,500.00
The safety deposit must be paidin cash. If you return the motorcycle undamaged, you will receive back thecomplete amount of the safety deposit. In case of damage, the costs for repairswill be settled accordingly with the amount of the safety deposit.
You need to have with you amotorcycle drivers' license valid in your country of residence, for the classof motorcycle you want to rent.
You cannot leave Boliviawith our rented motorcycles.
Personal injury and death:
All our motorcycles areinsured according to the minimum requirements of the Bolivian authorities(SOAT). This means that the rider, his passenger AND third parties are coveredfor medical costs only up to US$ 3,500.
 We strongly recommend to our clients to taketheir own individual insurance for personal damage, injure and/or death coveredby a reliable insurance company of their country.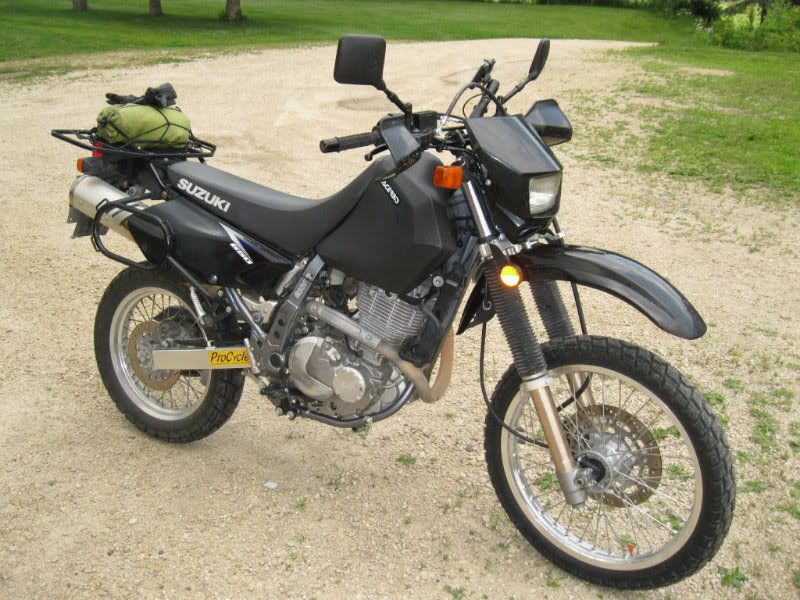 DR650SE Specifications
| | |
| --- | --- |
| Engine | single cylinder, 4-stroke, SOHC, air-cooled with SACS |
| Starter | Electric |
| Transmission | 5-speed constant mesh |
| Front Suspension | Telescopic, coil spring oil damped |
| Rear Suspension | Link-type coil spring,oil damped,spring preload/ compression |
| Front Brakes | Twin-piston caliper, 290mm Floating Disc |
| Rear Brakes | Twin-piston caliper, 240mm Disc |
| Fuel Capacity | 13 LITRES |
 Engine: Four-stroke, DOHC, four-valve single
Fuel System: Keihin CVK40Ignition:Electric CDITransmission: Five-speedFinal Drive: Sealed chainFuel Capacity: 6.1 gal.
 Cooling System Liquid.
MOTORCYCLES ARE NOT TOYS AND CAN BE DANGEROUS TO OPERATE. FAILURE TO OBEY OUR RULES OR TRAFFIC REGULATIONS CAN RESULT IN SEVERE INJURY OR DEATH, CONFISCATION OF VEHICLE OR JAIL TIME. MOTORCYCLE TOURS BOLIVIA IS NOT RESPONSIBLE FOR ANY ACCIDENTS THAT MAY OCCUR DURING A RENTAL OR TOUR. FURTHERMORE IT MAY RESULT IN LOSS OF SAFETY DEPOSIT.